Gradually Adding Services, People and More Fun
Blessed to Serve our Neighborhood
call 1-888-244-YETI
Our Story
We're a group of friends and co-workers dreaming of making a difference in an industry most of us grew up disliking.
It all started after James and Christina Baldwin settled in the United States to be near friends after 10 years as international Christian missionaries. They started restoring old homes – think HGTV type stuff – and loved it.
Five kids on and they're still doing that as a side passion that we all get dragged in on. As the business grew from James on his own, to a bunch of guys from several states, something happened in the middle of the night:
I (James) woke up in the middle of the night to hear water moving in the basement. Surely not… but yes! We had a huge mess down there – a flooded basement. We couldn't believe we had a project in our own house, and I was there sucking water up from 2am-7am, before going out to help someone pick the perfect granite for their stunning kitchen in town – and then rushing home to keep sucking.
Man, we were so blessed to have the experience and equipment to handle this. But we were stressed. Really stressed. Financially, emotionally. This was horrible. And I kept thinking, what do you do when you don't have the time, skills, manpower, or tooling?
And we began Yeti Restoration to try and help.
Today, we're adding services, and licensed people, and more fun (and we have a showroom in our Cincinnati location). We're totally blessed to serve our neighborhood still, and hire friends and experts who want the same.
Everything we do comes with our twelve month labor guarantee. That means that if anything we build falls apart because of workmanship, we'll be back. And we'll work for free to put stuff right.
Mold jobs… now they're a bit different. Mold will grow where you give it the right conditions, and something to eat. We're good for getting rid of it, and we'll give you great pointers to keep it gone… but you have to do your part 🙂
Why The Name?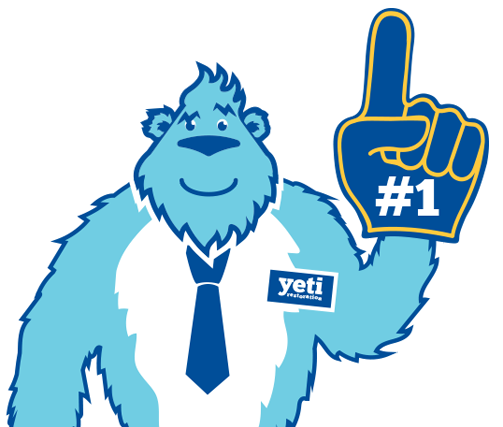 The Yeti is a fictional Nepali mountain bigfoot. He's calm in a storm. Picture Monster's Inc, and the great monsters who care for kids. That's what our name is all about – we're someone big enough to make a difference, lovable enough to care, and the calm in your storm. Yeti Restoration